Your trusted partner 24/7/365
Reporting - Analysis - Recommendations
ATLAS INFORM by Dryad Global, is
your

flagship resource of global maritime security intelligence.
Your 24/7/365 security portal
Join our growing community of subscribers to ATLAS INFORM.
Make fast commercial security decisions

Easily understood and actionable security analysis

Recommendations whenever you need

Make sense of world events

BMP 5 and ISGOTT 6 compliant risk assessments.
Why you need help
Trading and chartering decisions don't like waiting and money has its own speed; you are tasked with ensuring the safety of the cargo and crew. Your decisions are about protecting people and profit. You probably wear many hats in your job and you find yourself having to be an expert on international security.
As the lifeblood of the economy; maritime operations are 24/7/365 and you know all too well that weekends don't mean anything to the crews that you support as they pass 065E on a Friday night.

You need a trusted advisor that you can turn to when you must make crucial judgement calls on behalf of your business and that advice needs to be there when you need it.
Commercial Gain - Done Safely
This one-stop solution gives your business the ability to make fast commercial decisions. Our advanced information handling system is built to provide relational context to the world of complex data so that you can make better sense of world events.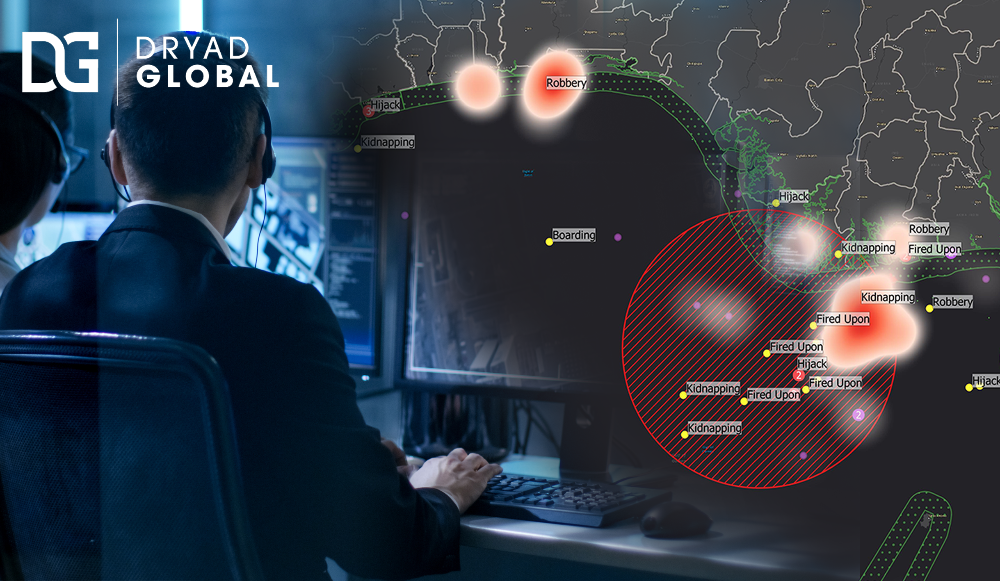 Let us be your Trusted Security Partner
There is a reason why the industry trusts us for independent security advice; our voice is heard and our first-rate analysis is trusted.

The Dryad Global difference
A Global and Agile Team
We embraced digital working long before the world experienced the Covid-19 pandemic and we have thrived since. Our global team are not burdened by expensive corporate offices in European capital cities and our talent is drawn from all over the globe. With reduced overhead and without having to service investor debt we are able to deliver excellence at significantly less cost than the competition.
A people business focused on you.
Off the shelf solutions and the maritime security sector don't mix.
Our bespoke analysis is put together by a highly experienced team; each of whom have extensive industry specific intelligence experience and unparalleled contextual knowledge spanning geo-political events to how criminal groups operate.
Risk analysis tools that rely solely on machine learning and AI are a long way from being able to give you an understanding of risk. Don't believe the hype.
The Dryad proprietary intelligence cycle is created by combining the best practices in the intelligence and commercial sectors.
We bring this expertise to you 24/7/365 with ATLAS INFORM.
What's Inside Your Security Portal?
You want to be able to log on to a secure system to get an instant appraisal of the situation. You cannot afford to be bound by time zones when the commercial department needs an immediate answer. The owners might need your reasoning (and deeper understanding) to show that the risks are not as severe as they might seem (as so often is the case .. .and opportunities are lost) so you need reports and information to help you communicate this.
Insights
Regional security insights; analytical data by time, space and category
Alerts
Instant notification of latest incidents on log in
Reporting
Detailed maritime crime and piracy reporting with data contextual analysis
Analysis
Maritime crime trends in context to individual incidents, maritime regions or countries
Intuitive
Easy search function – find the related information not just the headline
Ports
Port reports and Risk Assessments with incident data analysis
Countries
Country Overview Risk Assessments for on shore, beyond port operations
Communicate
Instant downloadable reports to use within your business
Visual
Contextual and geographical layer mapping (HRA, EEZ, Terminals)
Compliant
BMP 5 and ISGOTT 6 compliant risk assessments
The foundations- Maritime Security Threat Regions
Clear and concise high-quality threat analysis with real actionable value so you can make your commercial decisions fast and with confidence. We identify maritime risk regions by conducting independent, intelligence-led analysis reviewed regularly according to the threat.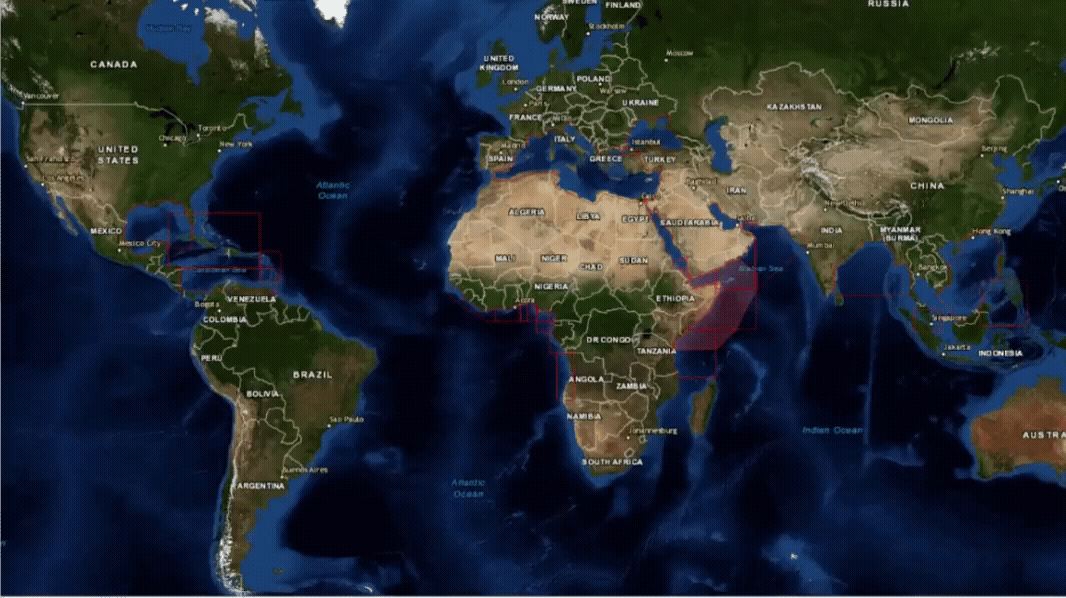 Many factors determine how we define maritime security threat regions, these include geography and the way criminal and national forces operate.
The evolving nature of threats and shore-based enabling factors requires constant monitoring, which is why ATLAS INFORM is available 24/7/365, with a dedicated security expert on hand when you need them equipped with the latest analysis and updates.
We do the work for you and ensure that we report in a way that is relevant to how you operate.
1. Regional security states
Easily monitor overall regional security levels with threat-specific risk ratings.
Each region has an overview and a breakdown of specific threats:
Threat from Hijack/ kidnap
Threat from illegal boarding
Threat of suspicious approach
Threat from interference by military forces
Threat from environmental factors
Threat from geopolitical issues
2. Events: Incident Reporting
Need to see all incidents involving an illegal boarding in the last 6 months in relation to a certain port? Or all kidnap incidents within 200Nm of another location?
Stay fully up to date with relevant global maritime security incidents by receiving alerts when you login, - directly to your email inbox. Including 360° near real-time reporting and analysis compiled by our team of experts.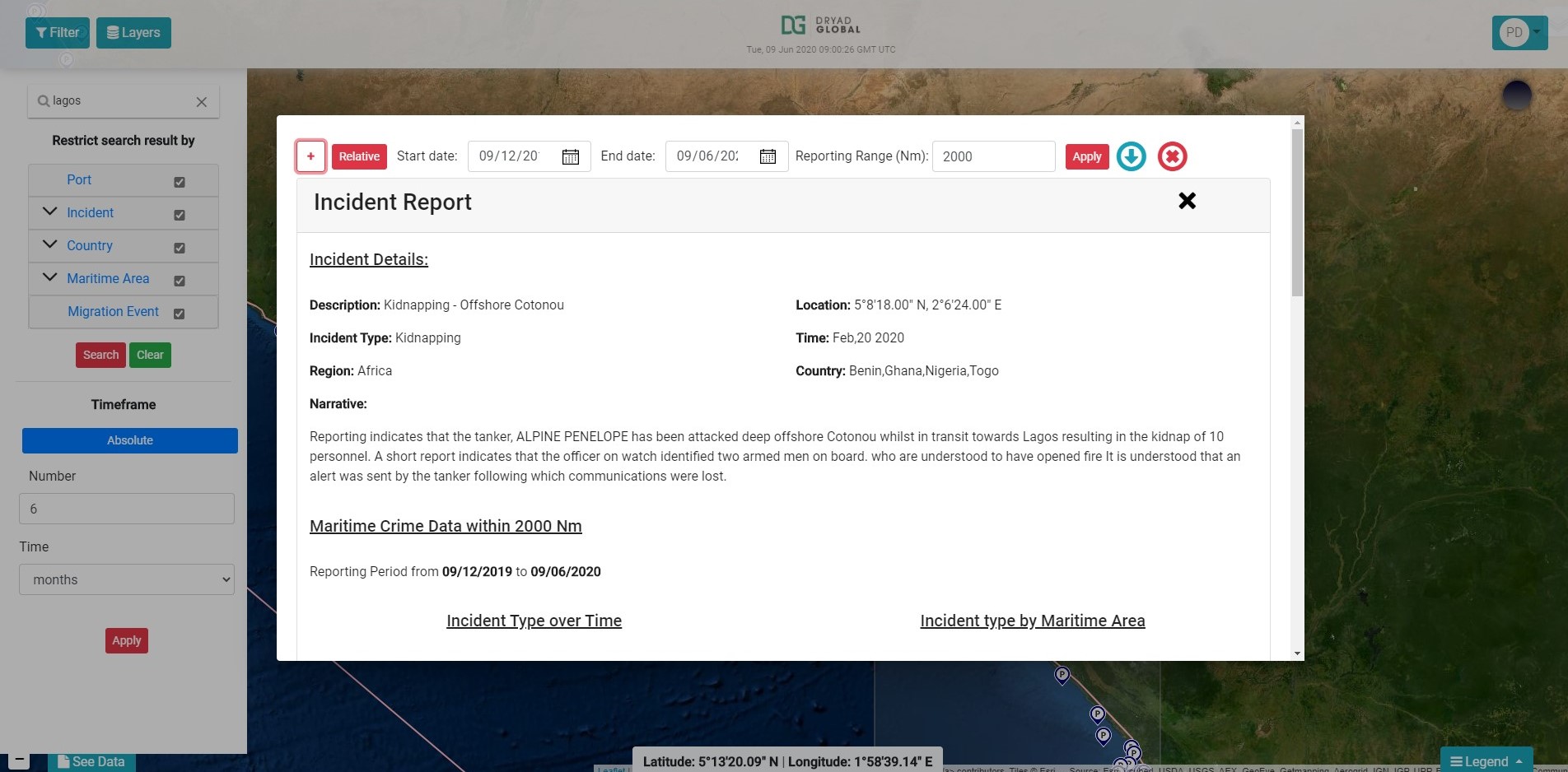 In-depth contextual analysis providing intelligence on historical incidents, geopolitics and other factors key to understanding the threat situation. Inter active visualisations included in our user-friendly portal displaying incidents and data on the map how you want to see them.
Set filters, search terms and parameters with ease enabling you to access specific information and manipulate graphs and displays in your own custom downloadable report.
Display, download and share the report as needed 24/7/365 to simplify sharing and referencing needs 24/7/365
New!
Security News Feeds
We have curated relevant news feeds in the areas of the world that matter to you.
The latest news from all the major sources
read more with links to source
Add news items to your country risk reports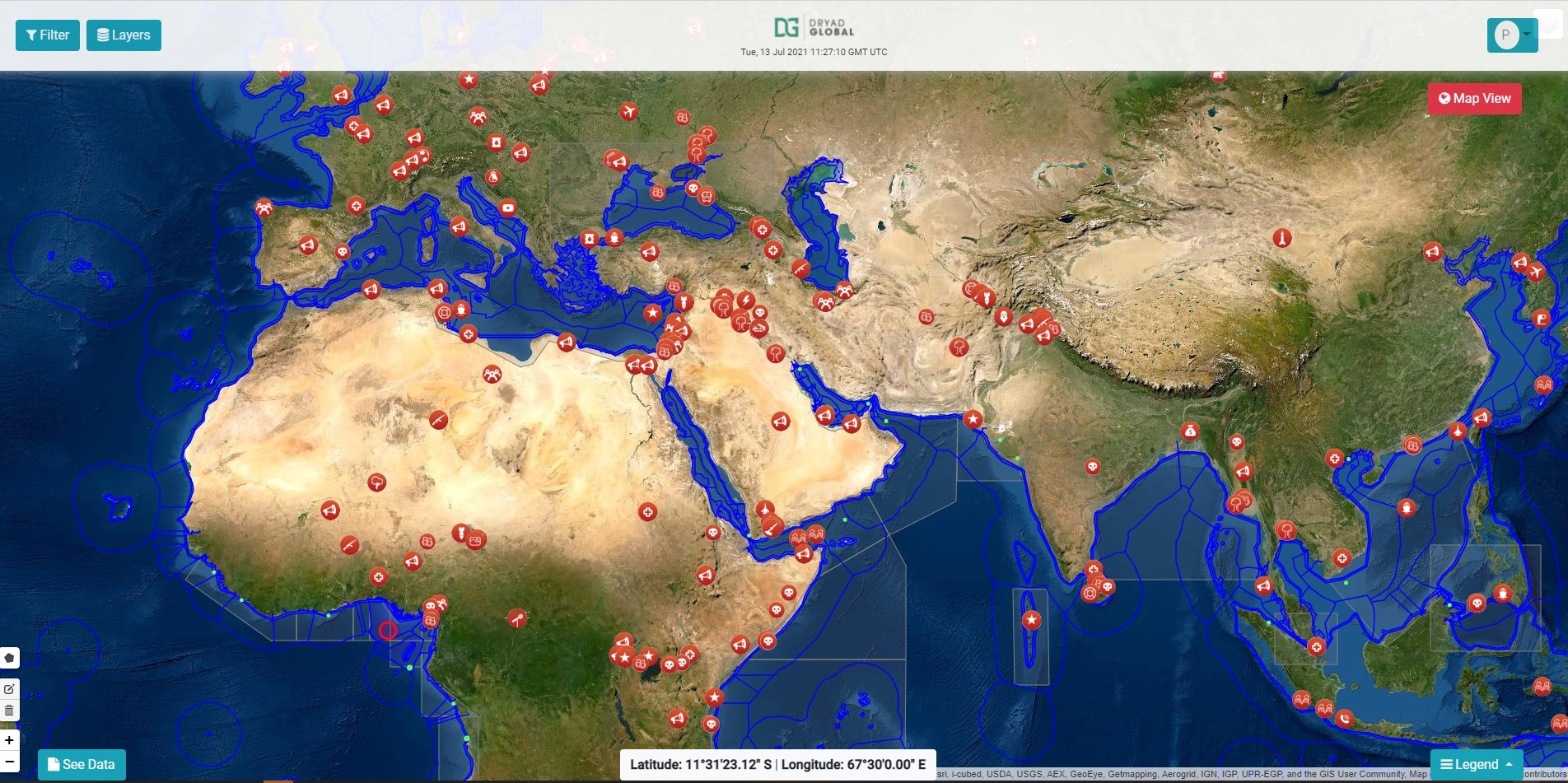 Our extensive network of global agents and collaborators provide us with essential alerts and in-country updates about security issues that may affect port operations. Not all ports in the world require a security risk assessment and we focus on those that our clients need.
In addition to our baseline coverage, our subscription service enables you to nominate specific reports that are of importance to your operations.
Just like our incident reports you can see crime and piracy in context to the port and the wider region; set your parameters and download the report you need.
Threat of Robbery & Cargo Theft
Threat of Illegal Boarding
Threat of Hijack & Kidnap
Threat of Military Activity
Threat of Migration & Trafficking
Threat from Fraud & Corruption
Threats of Industrial Action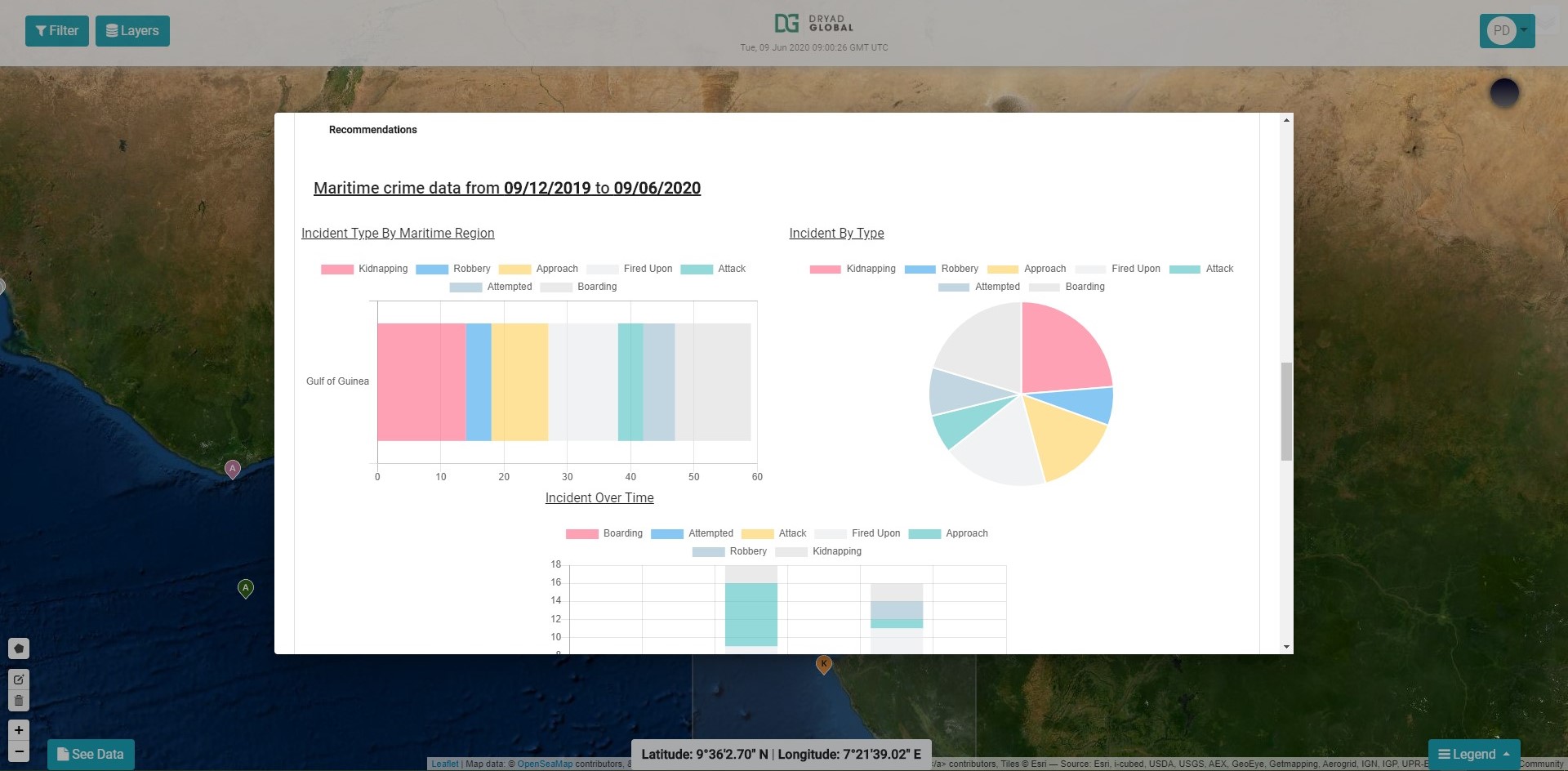 Doing business internationally means relying on stability and open access to foreign countries. When stability falters, profits and investments can be left exposed and vulnerable. This makes any change in a country's risk level an important strategic and operational indicator for international companies.
Whether it is civil unrest, the potential for armed conflict or the precarious fiscal state of a nation, risk can be mitigated against with thorough contextual analysis and understanding.
Having awareness of high-level themes and trends within countries is essential if voyage planners are to take a holistic approach to understanding and interrogating risk ratings for threats to maritime and operations ashore.

Grasping the global geo-political situation and understanding it within the context of individual port operations is a huge ask if you're also responsible for other areas of your company's operations. If you need to move crews beyond the port boundary in multiple countries, will you have the time to conduct due diligence on the states involved?